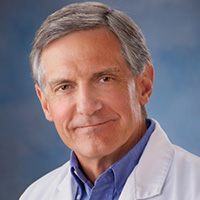 Dr. John C. Godbold, Jr.
DVM
Dr. Godbold graduated with honors from Auburn University School of Veterinary Medicine in 1978. In 1980, he established Stonehaven Park Veterinary Hospital in Jackson, Tennessee where he practiced full time as a solo small animal practitioner for 33 years. Dr. Godbold currently works full time with Stonehaven Veterinary Consulting, teaching and assisting colleagues and working in the development of new technologies.
Since 1999, Dr. Godbold has pursued a special interest in the use of light‐based modalities in small animal practice. He has extensive experience with surgical and therapeutic lasers, has developed new surgical and therapeutic techniques, and assists equipment manufacturers with the development of new laser and light based technologies.
In 2016 Dr. Godbold expanded his interest to include digital thermal imaging and has worked in depth in the development and delivery of educational content about thermal imaging and its application in veterinary practice.
Dr. Godbold has published numerous papers, articles and chapters about the use of lasers in small animal practice. His publications have appeared in the Journal of the American Veterinary Medical Association, Clinician's Brief, Laserpoints, The Feline Patient, The Integrative Veterinary Care Journal and the Newsletter of the Veterinary Surgical Laser Society.
Dr. Godbold is a member of the Medical Advisory Board of the American Institute of Medical Laser Applications, the Companion Animal Health Veterinary Advisory Board, the Digatherm Veterinary Medical Advisory Board, the American Society for Laser Medicine & Surgery, and the American Academy of Thermology.
Dr. Godbold published the internationally distributed Atlas of CO2 Laser Surgery Procedures in 2002, with a new edition each year since. In 2009, Dr. Godbold published the Atlas of Class IV Laser Therapy – Small Animal, also updated with a new edition each year.
He is co‐editor and a chapter contributor of the textbook Laser Therapy in Veterinary Medicine ‐ Photobiomodulation, 2017, Wiley.
In high demand as a continuing education speaker, Dr. Godbold has led over 600 laser workshops, wet‐labs, and continuing education meetings throughout North America and in over 25 countries around the world.