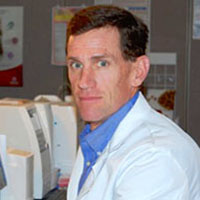 Dr. John W. Weiner
DVM
John W. Weiner, DVM, Chief-of-Staff and companion animal veterinarian at Pleasant Valley Veterinary Care, received his degree in veterinary medicine from the Iowa State College of Veterinary Medicine in Ames, Iowa. He also holds a Bachelor of Science in Animal Bioscience from Juniata College in Huntingdon, Pennsylvania. He attended high school in Elkland, Pennsylvania.
Dr. Weiner has had over 20 years of experience in the practice of veterinary medicine with a wide range of experiences with both small and large animals that have taken him from sheep stations in New Zealand to Idaho, Maryland and Maine and finally, back "home" to Elkland, Pennsylvania, where in January of 2002 he opened the doors of Pleasant Valley Veterinary Care. Today, his focus is on the care of companion animals, with an emphasis on preventive care, wellness and laser surgery.
Dr. Weiner, his wife and two sons live on a farm just outside of Elkland. Their small menagerie includes a golden retriever, several cats, four horses, chickens and a little flock of sheep.