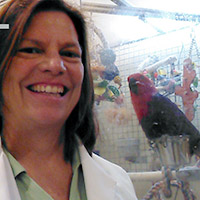 Dr. Jennifer F. Johnson
VMD
Owner of Stoney Creek Veterinary Hospital, 701 Kedron Avenue, Morton, PA 19070
A life-long resident of the Philadelphia suburbs, Jennifer received her B.S. in Chemistry/Biology from West Chester University of PA in 1988 and then attended the University of Pennsylvania, School of Veterinary Medicine, graduating in 1993. She worked as an associate veterinarian in general practice for 14 years before becoming the sole owner of Stoney Creek Veterinary Hospital in 2007. The AAHA-certified hospital employs 4 Veterinarians and 30 team members.
Dr. Johnson's special interests include general and orthopaedic surgery of all pets, pet bird and small exotic pet medicine and diagnostic ultrasound. Pain management has always been a priority at her practice and Dr. Johnson is always looking for new treatment modalities to help her patients. The hospital uses Companion Laser Class 4 Laser Therapy to treat acute and chronic pain and employs a Certified Pet Massage Therapist who uses Laser, Treadmill and Massage for chronic and acute conditions. The doctors have also used Stem Cell Therapy for treatment of chronic osteoarthritis. Since 2006, Dr. Johnson has been a lecturer for Pfizer Animal Health, where she travels to other veterinary hospitals to help her colleagues improve their anesthesia and pain management protocols. In 2012, Dr. Johnson qualified to sit for board certification by the International Veterinary Academy of Pain Management and will be achieving her CVPP this year.
Dr. Johnson lives in Morton, PA, with her husband, two daughters and a furry son. In her spare time, you will likely find her coaching softball or riding her horse, RedRum.